Extra Actvities
The programme of the Master of Science in European Economy and Business Law endeavours to foster students' academic, professional and personal growth, hence it includes the requirement for students to earn 6 credits (ECTS) through the completion of an extra activity that can further enrich their academic experience and additionally prepare students for their future in professional spheres. The available activities are of diverse nature in order to provide students with an adequate range of projects and interests from which they can choose. Opportunites range from specific courses offered by EEBL, language certification, internships and other experiences. Students should note that all of the activities must be initiated and completed during the course of the MSc. degree programme and be pre-approved by the EEBL Programme Office.
Extra activities for university credit include the following options for EEBL students:
• Training and orientation internships offered through EEBL or the Faculty of Economics which include a commitment of at least 150 hours and last for at least 30 days; students can also propose internships, however prior authorization must be obtained from EEBL and an official Learning Agreement must be signed by the hosting institution before the start of the internship.
• Training activities to acquire skills for work placement (soft skills, leadership, relational effectiveness, teamwork, problem solving, research projects), which can be acquired through activities organised by EEBL or activities proposed by the student with prior authorization from EEBL.
• Tor Vergata language courses and internationally recognized certifications to attest the acquisition of new language skills (B2 or higher); language courses and certifications achieved through other universities or language schools will require prior authorization from EEBL. All modern languages, including English and Italian, can be considered, excluding the mother tongue of the student, provided that they are of a higher level than that previously indicated at the time of admission to EEBL.
• Tor Vergata computer skills and telematics courses and certifications, or similar courses proposed by the student with prior to the authorization from EEBL.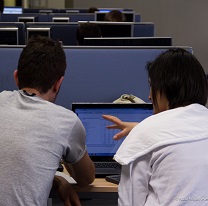 NEW OPPORTUNITY! 2017-2018 Academic year: EEBL Computer seminars for 6 CFU
The seminars on Information and Communication Technologies will begin on 17 November and will be held weekly until March 2018.
Course objectives include the acquisition of the basic concepts of Information and Communication Technologies (ICT), and knowledge and skills in the following areas: hardware, system software, application software (specially spreadsheet), networks, client-server architectures, web (deep web and dark web), computer security, algorithms, computational thinking, digital identity of individuals and companies. Based on this knowledge students will be able to: understand the causal links between the major ICT variables; understand and know how to use tools, formulas, and functions in the use of personal and business productivity packages; apply the knowledge gained to the analysis and understanding of the facts of the world of information technology and their implications on the economic and business world. Students will receive 6 CFU for this extra activity if they attend a minimum of 80% of the lessons and successfully pass the final exam.
For further information, please contact: msc@eebl.uniroma2.it .