"Working in Financial Advice" Tuesday 27 September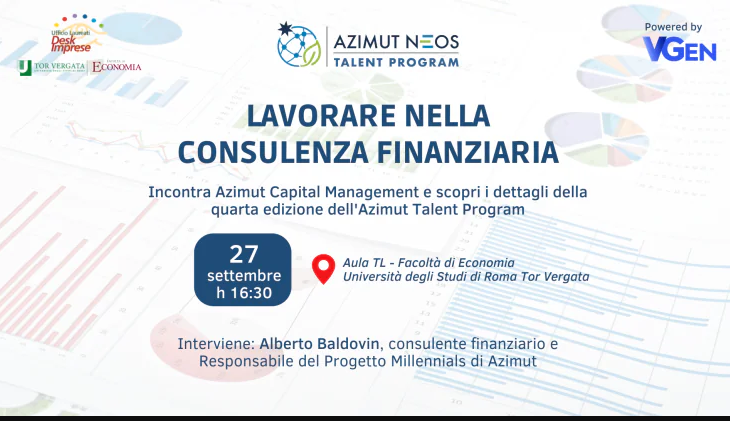 Registration open from 21/09/2022 to 27/09/2022.
The Business Desk Office of the Faculty of Economics, Azimut Capital Management and VGen are pleased to invite students, undergraduates and graduates to the event "Working in Financial Advice", which will be held on Tuesday 27 September from 4.30 p.m. to 5.30 p.m. at Aula TL of the Faculty of Economics (Building A - ground floor).

The event will be attended by Dr. Alberto Baldovin, financial advisor and Head of Azimut's Millennials Project, and is aimed at presenting the profession of financial advisor, the company and the opportunities it offers, including the fourth edition of the Azimut Talent Program, the career guidance programme launched on the VGen platform dedicated to young talents who want to learn more about the financial advisory sector.
To take part in the meeting it is necessary to be accredited, by midnight on Monday 26 September: https://economia.uniroma2.it/cal/1948/lavorare-nella-consulenza-finanziaria#.YyxoKnZByUl
Thursday
22 September 2022