Self Empowerment (3 CFU) - 1° module
"Self empowerment: communicating effectively and building networks in a complex environment"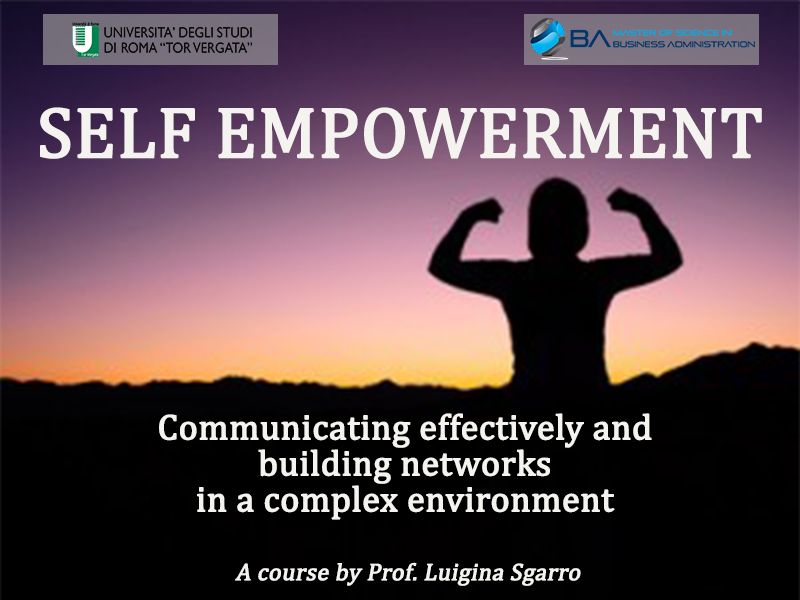 About the course
Objective
The seminar is intended to equip students with the requested skills to orient themselves in the labour market, with a focus on building professional relationships and communicating effectively to build networks.
Description
The skills we aim to build are not suitable, for their nature, to be approached by a traditional didactic method, and are better supported by an experiential approach. To this end we designed a series of different practical and engaging pathways.
Professor
Luigina Sgarro is a psychologist with a wide experience in HR and organizational development in Corporate environment (Pfizer, BAT, ecc.) in Public Administrations and Education, both as a manager and as a consultant.
She has been cooperating for many years with Tor Vergata University, where she teaches Organisational Psychology, putting her multi-years experience in management, the continuous study and deepening of the themes of strategy, behavior of individuals and organizations, the knowledge of intra and interpersonal and of emotional dynamics, together with the most advanced creative techniques, at the service of students who want to develop skills for better dealing with work environment.
Course programme
| | | |
| --- | --- | --- |
| DAY | TIME | ROOM |
| 16.09.2019 | 14:00 - 18:00 | P12 |
| 23.09.2019 | 14:00 - 18:00 | P12 |
| 30.09.2019 | 14:00 - 18:00 | P12 |
| 07.10.2019 | 14:00 - 18:00 | P12 |
| 14.10.2019 | 14:00 - 18:00 | P12 |
| 21.10.2019 | 14:00 - 18:00 | P12 |
Course structure and contents
The course is divided in two key areas:
1. Emotional intelligence and communication
In the working life success comes not solely from technical skills but also from the ability to attune with other people's feelings and emotions.
This capacity, called emotional intelligence, can be improved and refined.
This path entails two sessions of one day each, at a one week distance, and a follow-up two months later. After the first session, students will be given tasks to reinforce learning. We propose a series of observation, elaboration and listening activities, which will help the students in improving their awareness of their and other people's emotions, together with the ability to deal with them in a constructive way in the relationship with themselves and others through a series of individual exercises and group activities useful to improve the techniques, modalities and approaches in interpersonal communication.
2. Team work and leadership
An essential part of professional results comes from the ability to work well with others, influencing them through leadership.
In this workshop students will be guided in a project that will give them the opportunity to experience a real team work, with exercises between the sessions.
This path, articulated in two sessions, to be held one after one week from the other, aims at experimenting different behaviour styles of the members of a team. At the end of the training the participants, that will have the opportunity to play as actors and as observers, will have developed more awareness of their behavioural style in a team and of other people styles in a team and will be able to improve their capacities to work in group, with a common goal.
For both areas, students may receive a brief pre-work before starting the course and tasks to accomplish from one session to the other to put in practice their leadership and their personal influence, while they will continue working on the project work started in the previous module.
During the training each student will be asked to challenge their interpersonal style giving and receiving feedback on the effectiveness of their approach.
The course added value
Understanding ourselves, our motivations and our emotions, providing interpretation keys of other behaviours, improving the ability to establish relationships with the environment and achieve our own objectives.
Ability to understand our own cognitive bias and to decide effectively
Understanding the impact that communication style has on its effectiveness
Improve our abilities to learn from relational and emotional experience
Exam and Frequency
In order to obtain the 3 CFU credits for the extra activities, the students are required to elaborate an individual project work. Only students attending at least 80% of the scheduled lessons will be allowed to sit for the exam in order to obtain the 3 CFUs valid for the Extra-Activities.
Register here: application form
Application Deadline: September 11th 2019
The seminar will be activated only if the number of participants will be at least 15.
Contact
For info please write an email (subject: "Extra Activity") including your name and surname to professor luigina.sgarro@uniroma2.it .