YUFE - Academy Lectures 2021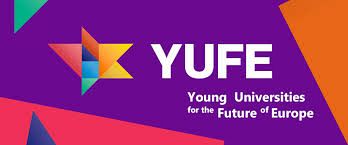 Elective lectures on Diversity and Inclusion. Mind registration deadlines!
Read more about YUFE (Young Universities for the Future of Europe)
YUFE Academy Lectures on Diversity and Inclusion are listed at this link
Attendance is free and elective for all students.
Mind also...
YUFE new opportunities for Tor Vergata students (in Italian)
The "YUFE Student Journey" offers students the opportunity to attend courses at one of the other YUFE universities as part of their academic programme in combination with participating in YUFE activities in the area of language training and civic and/or entrepreneurial engagement.
Fall 2021 YUFE Course catalogue - In case you are interested, please take agreement with your supervisor, and inform the PhD Coordinator.
To learn more:
- Opportunities
- Programmes
- Student portal
- F.A.Q.

YUFE Network:
Academic Members
Maastricht University, the Netherlands
Nicolaus Copernicus University in Torun, Poland
Universidad Carlos III de Madrid, Spain
University of Antwerp, Belgium
University of Bremen, Germany
University of Cyprus, Cyprus
University of Eastern Finland, Finland
University of Essex, the United Kingdom
University of Rijeka, Croatia
University of Rome Tor Vergata, Italy
Non-Academic Members
ETS Global
European Entrepreneurs CEA-PME
Kiron Open Higher Education gGmbH
The Adecco Group
Please consider the YUFE Coordinator at Tor Vergata Univesity is Professor Luisa Corrado.