Disneyland® Paris is recruiting in Rome
6th & 7th November 2018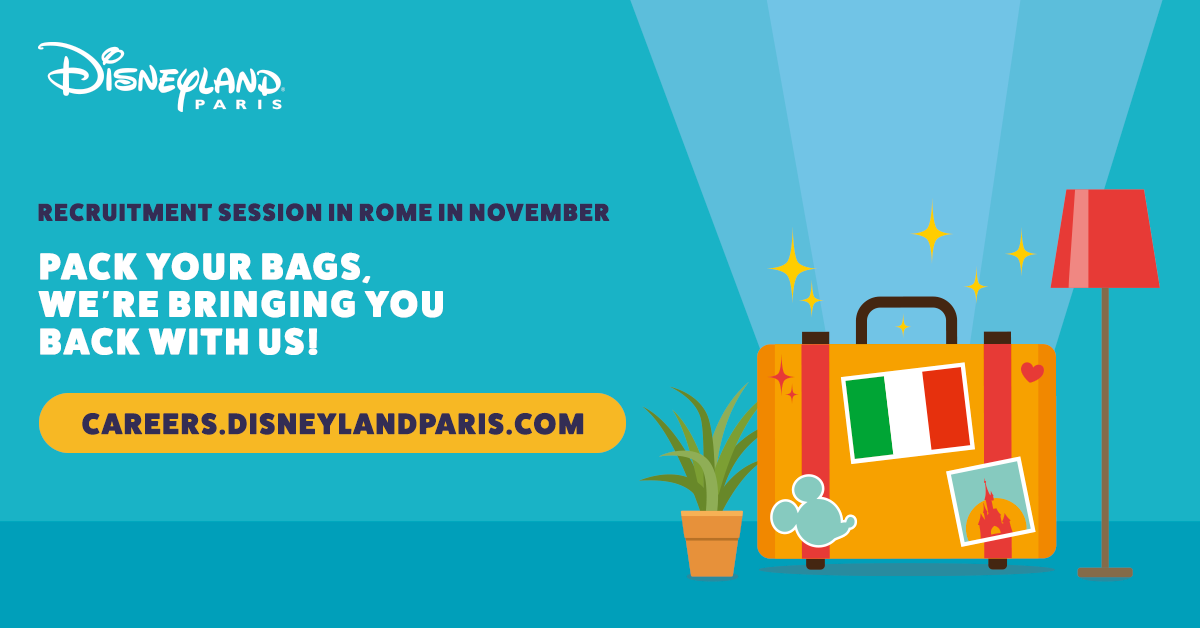 Applications are now open!
Keen to have a working experience in France at Europe's number one tourist destination?
Do you want to improve your language skills and evolve in a multicultural environment?
Or maybe you are interested in financing your future projects?
Our teams are growing and we are now looking for new Cast Members who want to be part of the magic of our destination!
On November 6th and 7th, we will be recruiting for the following roles:

- Food & Beverage: waiter/waitress, commis chef, dishwashing staff, quick service staff
- Greeting/Tourism: attraction operator-host/hostess, ticketing host/hostess, guest relations host/hostess
- Sales: boutique sales assistant, customer advisor central reservation
- Hospitality: receptionist, luggage handler, lifeguard, housekeeping staff

Several contracts are available:

Permanent contracts (CDI) and fixed term contracts (CDD) which can last 2 weeks to 8 months during the French school holidays. Disneyland Paris Learning Program (beginner level in French accepted).

Accommodation in one of our residences is possible. Please note, that as the numbers are limited, available housing will be offered on a first-come first-served basis (terms & conditions apply).
The profiles we are looking for: You are at least 18 years old and service-oriented. You have at least one experience in hospitality or tourism. You are at ease with French (and English for certain positions). You have all the documents you need to work in France, as well as the diplomas and certificates certain roles may requires.
Then join us! Apply today!
Get ready for a unique professional experience making dreams come true for millions of visitors!
How to apply: we invite you to click on the following link to submit your application.
This will then be carefully studied by a recruiter. If selected, you will receive an email inviting you to a recruitment session. Please note that access to our recruitment sessions is only possible if you have received an invitation.

Wishing you a fantastic day and hoping to meet you soon!
The Disneyland Paris Campus Team
giovedì
27 settembre 2018