Enabling Abilities: Inside Amazon's Work Culture & Career Tips, 3rd. August 12-2pm (BST)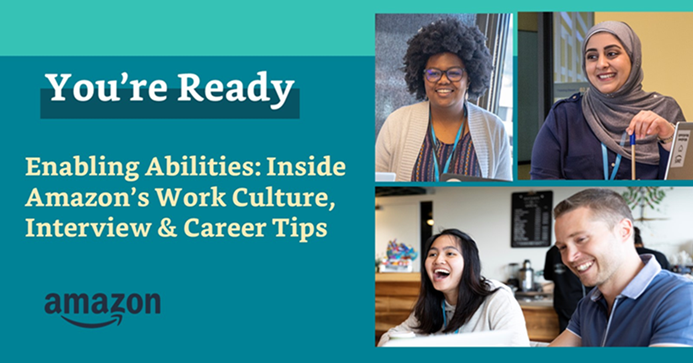 Amazon would like to invite students looking for internships and full-time opportunities to join an upcoming virtual event hosted by our EMEA Student Programs team.
Enabling Abilities: Inside Amazon's Work Culture & Career Tips, 3rd. August 12-2pm (BST).
Enabling Abilities provides participants insight into how Amazon supports applicants and employees with disabilities. Participants will gain valuable career advice, learn more about the application process and gain tips on how to prepare for the Online Assessment and Interviews, as well as how to flag any accommodations needed during the application process, for Internships and Graduate Programs.
Participants will have the opportunity to sign-up for mentorship following the event, to provide support with the application process and beyond. Mentoring will be offered to candidates looking to apply for an Amazon Student Programs, Internship or Graduate position.
The aim is to provide an authentic space to learn about our commitment to disability inclusion, and to offer advice to students for the recruitment process and beyond. Students will have the opportunity to ask questions to a panel of Amazonians and find out what support Amazon offers to employees with neurodivergence and disabilities. Students will also receive information about the benefits available at Amazon as well as insightful application tips to help students succeed in the selection process.
The event will have captioning in English and sign language interpretation, with regular breaks incorporated throughout. The event will also be available to watch on demand.