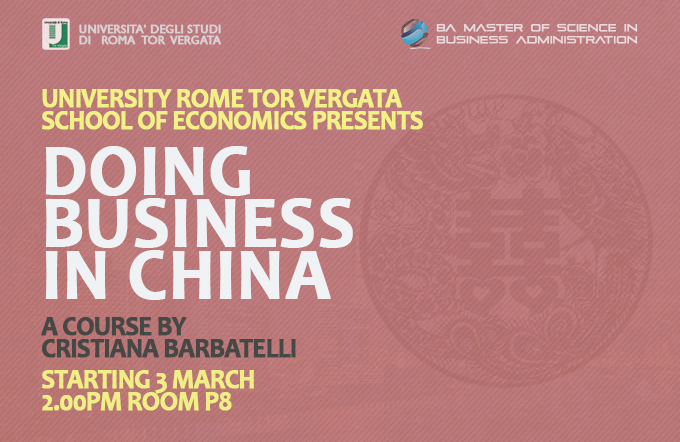 Doing Business in China: Course info
Tweet
Doing Business in China is course by Cristiana Barbatelli. The Course will focus on the main issues of doing business in the P.R .China and will cover the following aspects:

1) Entry modes and entry barriers in the Chinese Market
2) Developing a Competitive Strategy in China: Doing Marketing Research in China: Data Sources and Main Issues; Segmentation of the Chinese Market and Positioning; the purchase attitude.
3) Looking for a Partner and Developing Alliances in China; going it alone in China.
4) Distribution, outsourcing, joint ventures;
5) HR Management in China and the cross cultural management factor
6) Exit barriers and way outs

Topic seminars:

1) HR Management in China and the cross cultural management factor
2) China Banking and financial system
3) China legal system and main issues

The course wants to give basic skills for seeking and use better organizational tools in order to satisfying customers in a challenging market environment. This course provides an overview of marketing distribution, entry modes and management issues principles and gives students the opportunity to apply the concepts they will learn to practical business situations.

Download Program & Time Schedule
Course Lecturer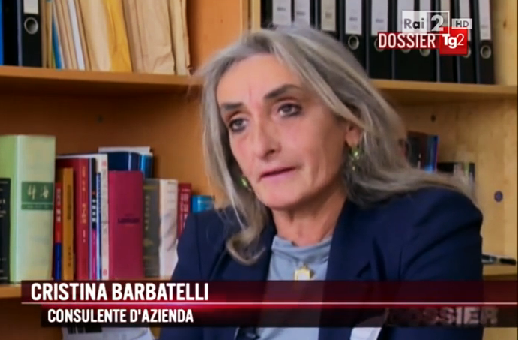 Prof. Cristiana Barbatelli
The course is taught by Professor Cristiana Barbatelli. Mrs Barbatelli was professor of Marketing Management at the Institute of Economics and Finance University ' Shanghai Normal. She is the only foreign Independent Counselor at the Shenzhen Stock Exchange, and Founding Faculty Member of BIC (Business in China).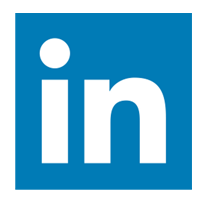 Cristiana Barbatelli on Linkedin
Calendar

DAY
TIME
TOPIC
CLASS
March 2

9.00 - 11.00

Entry modes and entry barriers in the Chinese Market
Aula P8
March 2
14.00 - 18.00
Developing a Competitive Strategy in China:
Segmentation of the Chinese Market and Positioning.
The purchasing attitude
Aula P8
March 29
16.00 - 18.00
Looking for a partner and developing alliances in China; going it alone in China.
Joint Venturing,
Aula P8
March 30
14.00 - 18.00
Cases discussion : WOFE against Joint venturing
HR management and cross cultural factor
Aula P57
April 10
14.00 - 18.00

Lesson by: M. Barezzani & M. Accinni

Aula P57
May 15
14.00 - 18.00

Lesson by: R. Cavalieri

Aula A
May 25
14.00 - 18.00

MadeInChina 2025: impact, challenges, evolution and perspectives for the future business in China
Lesson by: G. Giacconi

Aula P57

NB: More Lessons will be added soon
Learning Objectives
• To learn basic business concepts applied to the most challenging business environment of the world.
• To use and familiarize business tools and analysis methods in order to have the capacity of grasping the P.R.C market business conditioning factors.
• Develop your skills in planning strategies to tackle China market most common features enhance your problem solving and decision making abilities from business perspectives and insights.
• To improve awareness of current challenges and issues in the actual China business environment.
Nature of the Class
The course is composed by 5 modules of 4 hours each, and 2 modules of 2 hours, for a total of 24 hours .

The course will host 3 speeches on peculiar topics ( HR , banking system and Legal system of China) given by guest speakers (with a duration of 4 hours each) .

The final aim to give the students a clear and straightforward outlook of actual methods in managing the most common and challenging themes of "managing a successful business model in China projects"
Classes may involve lectures, videos, guest speakers, small group exercises, case analyses and discussions. Student contributions will play an important part of the course.
Students are required to attend class, participate and contribute to discussions.
Students are required to be active in the discussion. We will use cases, discussions, and readings to provide a mix of integrated concepts and hands-on problem solving approaches. We, at the same time, encourage a variety of perspectives by our attendees on marketing issues.
Prerequisite
A background in Economics is helpful, but not required. The course is held in English Language therefore English language skills must be at course level.
Recommended Texts
• Nick Dallas (2007) How to Do Business in China: 24 Lessons in Engaging the Dragon ,Mc Graw and Hill
• Robert Collins Carson Block, (2007) Doing Business in China For Dummies
• Kotler, Philip – Kevin Lane Keller –Taihong Lu , (2009) Marketing Management in China , Prentice Hall
• Johan Bjorksten , Anders Hagglund ,(2010) How to Manage a Successful Business in China , World Scientific
• Liu, Warren (2008) KFC in China , Secret Recipe for Success ,Wiley and Sons
• Maria Weber , Cristiana Barbatelli ,(2006) La Cina non e' per tutti, Edizioni Olivares
• Cristian Barbatelli, Renzo Cavalieri (2015) la Cina non e' ancora per tutti
Other recommended readings will be assigned during the course.
Overview of Assessment
| | |
| --- | --- |
| | Weight |
| Case | 30% |
| Exam | 60% |
| Participation | 10% |
| Total | 100% |
Assessment will consist of one final exams 60% each, one case analyses (30% each), and class participation (10%). The exams will assess your understanding of key course concepts. The case analyses will assess your ability to apply course concepts to what customers and companies do. Participation includes in-class discussion of cases, readings, exercises, and current marketing challenges.
Exams
The Course will use case history methodology.
The exam will be held in class at the conclusion of the courses. It will cover assigned reading material and class discussions. Questions will primarily be in a multiple choice and short answer format.
Case Analysis
One case analysis will be used to assess your analytical and written communication skills. I will provide you with the case. The case questions will require you to apply your understanding of course principles to the situations described in the cases. The specific questions and assessment criteria will be provided to the class. The analyses should not exceed 5 pages in length.
Case study will be used from the beginning to the end. The cases facilitate the discussion of marketing problems in real situations whereby you may after careful studies, provide constructive input as the session works together to address the issues raised in the cases. Real learning takes place when you see how others address a problem about which you have thought carefully. It has to be pointed out that only through good preparations will you acquire a thorough understanding.
Class Participation
Student participation is an important component of the course. Students are expected to come to class prepared, and willing to discuss the readings, cases, videos, and other class exercises. You are expected to defend your ideas and opinions and to demonstrate them to the class.
Personal Integrity
Using information from other sources and not citing the source is plagiarism, a form of cheating. If you are working with other students, please remember that failing to contribute adequately to the project but taking full credit for others' efforts is cheating and will be punished appropriately.
Changes
This course syllabus and schedule are preliminary, and are subject to change pending notification in class.

Download Program & Time Schedule