International Trade - Prof. Massimiliano Di Pace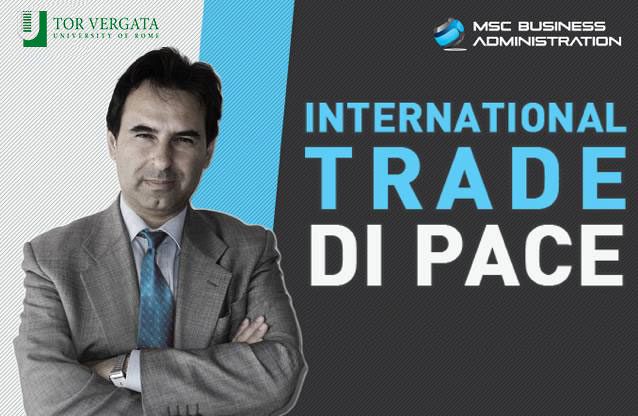 A seminar on concepts, know-how, tools and good practices relating to international trade.
Registration deadline: 21 February.
The teaching is aimed at providing students with the ability of understanding and implementing concepts, knowledge, know-how, tools, good practices relating to international trade, from the macroeconomic point of view, as well as from the operational perspective necessary at business level.
At the end of the course, the participants, thanks to the interactive relationship with the lecturer, and to internet surfing, should be able to use the most important means available in the framework of international trade, so as to carry out a set of tasks and activities for companies and public institutions, or anyway to be ready to tackle them.
A special focus will be devoted to practical needs for companies engaged in international trade, especially those relating to markets assessment, international marketing strategies, international negotiations, international contracts, international payments and guarantees, international transportation.
In all those fields, problems and solutions will be examined, as well as connected aspects will be considered, such as the protection of intellectual property rights.
In short, the seminars will deliver skills and know-how requested for the export manager position, which is often a vacant position in the 130.000 exporting Italian companies, and in the millions of exporting enterprises around the globe.
Timetable
| | |
| --- | --- |
| TOPIC | TIME 2 hours per day |
| 1 Concepts of globalisation, internationalisation | February 22nd 11.00-13.00 (Mon) |
| 2 Wto agreements and principles of trade rules | February 24th 14.00-16.00 (Wed) |
| 3 Wto agreements and international trade rules | March 3rd 14.00-16.00 (Wed) |
| 4 Acquisition of data on customs rules | March 5th 11.00-13.00 (Fri) |
| 5 Market assessment and Business Intelligence | March 10th 14.00-16.00 (Wed) |
| 6 International marketing strategies | March 12th 11.00-13.00 (Fri) |
| 7 International negotiations | March 17th 14.00-16.00 (Wed) |
| 8 International contracts | March 19th 11.00-13.00 (Fri) |
| 9 International payments and guarantees | March 24th 14.00-16.00 (Wed) |
| 10 International transportation and Incoterms | March 26th 11.00-13.00 (Fri) |
ATTENDANCE AND EXAM
Only students attending at least 80% of the scheduled lectures will be allowed to obtain the 3 CFUs valid for the Extra-Activities.
In order to obtain the 3 CFU credits for the extra activities, students are required to pass an oral exam, based on 3 questions aimed at verifying the knowledge and abilities stemming from the participation to the course. The first question is on the theoretical part of the course (the first 4 lessons), the second question on the part relating to export techniques (the remaining lessons), and the third on the search of data contained in official websites providing useful information for the management of an export operation.
The date of exam will be presumably March 31st.
TEXTS
In order to pass the exam, students have to study a Wto's ebook and lecturer's slides (all delivered by the lecturer), which are free of charge.
Students will receive further teaching materials, representative of documents used in international trade operations, as well as guides containing instructions on how to carry out the various stages of an international sale of goods and services, but they are aimed just at providing a more in-depth knowledge of the topics, and they are not required for passing the exam.
BIBLIOGRAPHY
Ebook "Il business plan per l'internazionalizzazione" (The business plan for enterprises internationalisation), editor FiscoeTasse (Maggioli Editore), author Massimiliano Di Pace, Isbn 9788891640680, February 2020 (in Italian language).
REGISTRATION
The seminar will be available online on Skype. Further details will be sent by email to those who register using the form below
Students interested in participating to the course are required to complete the form.
DEADLINE

The deadline for registration is 1 day before the start of course.
CONTACTS
Lecturer's Email: dipace_m@tin.it
MscBA program office study@mscba.uniroma2.it