MarkStrat (Digital Version) - Prof. Sara Amoroso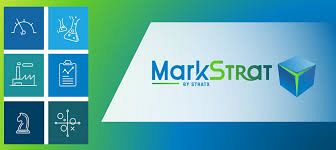 Markstrat is designed to improve strategic marketing concepts, such as brand portfolio strategy, segmentation and positioning strategies.
Description
MarkStrat is a Strategic Marketing Simulation.
Features:
Blend Digital & Traditional Marketing Strategies
Develop Brand Portfolio on a digital sensitive market
Blend digital and traditional marketing strategies with Marketing Powerhouse, Multi-channel and media strategies, Digital Initiatives
Segment, target and position brands to a digital-sensitive customers
Manage digital marketing as a profit-center
Pre-requisites: Advanced knowledge of Marketing
Timing: 20 hours of decision making
Market: B2C durable goods (electronics)
OBJECTIVES OF THE COURSE
Learn strategic marketing concepts
relationship between market share and profitability, experience effect, allocation of resources, market segmentation and product positioning, etc.
Experience essential marketing tools
marketing planning, perceptual mapping, conjoint analysis, portfolio analysis, regression analyses, etc.
Master market and competitive analysis
Monitor changes in markets
anticipate the competition's next moves
evaluate different courses of action, plan long-term strategies
secure competitive advantages.
Programme
Markstrat is designed to improve strategic marketing concepts, such as brand portfolio strategy, segmentation and positioning strategies.
During the Course:
Strategic Perspective: marketing mix decisions are secondary
Long-term Perspective: up to 10 simulated years
Extensive Treatment of Competition
Understanding customer needs is key
Managing Marketing as a profit center
Built on solid Theoretical Foundations
FEATURING LONG-TERM STRATEGIC PLANNING AND IMPLEMENTATION
In markstrat, the name of the game isn't just process, but long-term strategy!
4-6 competing teams
Teams will have to build successful Marketing strategies for up to 10 simulated periods, by:
Specifying and ordering new Research & Development projects
Managing the Brand Portfolio
Setting Production levels, Price & Advertising Initiatives
Allocating Sales Force & Distribution Resources
Analyzing up to 23 Market Research Studies
Teams start in different initial positions but each firm has an equal opportunity to high performance
THE ULTIMATE OBJECTIVE: MAXIMIZING THE SHARE PRICE INDEX
The share Price Index is the best mesure of performance in Markstrat:
represents the creation or destruction of value for each firm
calculated at the end of each round with the team's net contribution, brand market shares, ability to grow the firms' revenues, quality of R&D projects successfully completed, etc
TIMETABLE
| | | |
| --- | --- | --- |
| TOPIC | DATE | TIME |
| Introduction to the Course, Groups building, 1st and 2nd rounds of decisions | April, 27th | 4-8pm |
| Brief about new decisions: positioning, R&D, manage the brand portfolio – 3rd and 4th rounds of decisions | May, 4th | 4-8pm |
| Intermidiate debrief – 5th and 6th rounds of decisions | May, 11th | 4-8pm |
| Intermidiate debrief – 7th and 8th rounds of decisions | May, 18th | 4-8pm |
| Last Brief - 9th and 10th rounds of decisions – Announcement of final result | May, 25th | 4-8pm |
| | | |
FINAL TEST AND FREQUENCY
Warning: the maximum number of participants is 30. For this reason we ask you to register only if you are really motivated to follow the course.
Registered students who are unable to attend for serious reasons should notify to the program office and Professor to give access to students who have not registered in the top thirty.
CONTACTS
MSc BA Programme Office: study@mscba.uniroma2.it
Prof.ssa Sara Amoroso sara.amoroso@uniroma2.it