Apics SCOR® seminar by Sergio Vacca (3 cfu) – 1° module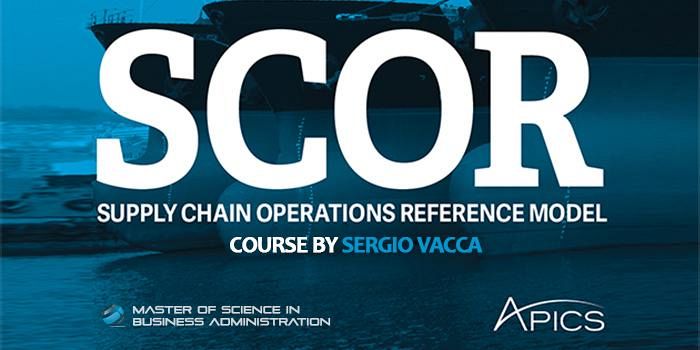 SCOR (Supply Chain Operations Reference model) is the world's leading supply chain framework, linking business processes, performance metrics, practices and people skills into a unified structure. Implementing the SCOR framework to organisations helps increase the speed of system implementations, support organizational learning goals and improve inventory turns.
SCOR framework is a product of APICS, the professional association for supply chain management and provider of research, education and certification programs with headquarters in Chicago. APICS has 45,000 members and more than 300 channel partners in 100 countries
The seminar is an extra activity presented by Professor Andrea Appolloni's specialization in Supply Chain Management presents this extra activity seminar and is worth 3 CFU credits. A 7-lesson seminar by Sergio Vacca on APICS SCOR (Supply Chain Operations Reference Model), the world's leading supply chain framework, linking business processes, performance metrics, practices and people skills into a unified structure.
Programme
Learning Objectives
One of the most important challenges in managing a Supply Chain is to implement changes and improvements in a way which is consistent with the company objectives and to gain a competitive advantage in the relevant industry sector, adopting an effective framework.
The world of supply chain management never stops advancing, and supply chains require professionals with the knowledge and know-how on the global standards and practices that move the needle on supply chain performance.
SCOR is an acronym for Supply Chain Operations Reference Model, which was developed to assist businesses in understanding, structuring, and evaluating the performance of supply chains.
The SCOR model describes the business activities associated with satisfying a customer's demand, which include Plan, Source, Make, Deliver, and Return. Use of the model includes analyzing the current state of a company's processes and goals, quantifying operational performance, and comparing company performance to benchmark data.
The key learning objectives of the seminars are:
▪ Explore the origins and goals of the SCOR Reference Model framework.
▪ Understand the structure of the SCOR Reference Model framework sourcebooks.
▪ Work with the four central parts of the SCOR framework: performance, processes, practices, people, and sustainable SCOR.
▪ Summarize a SCOR improvement program.
The seminar is designed for students who do not yet have full professional experience, but with a structure and practice sessions similar to the full SCOR-P course.
Pre-requisites of the seminar
Students have ideally attended or will be attending simultaneously the MScBA courses on SCM, as Procurement Sourcing and SC Strategies to maximize the learning experience.

Teaching methods
This seminar consists of two closely integrated parts. The first part contains an overview of the content of the Supply Chain Operations Reference Model (SCOR) framework while the second part consists in a review of the basic steps adopted to create and manage a SCOR improvement program.
The teaching method is based on a combination of theory of the model and practical application. The class material and additional documents/tools, helping to improve knowledge and skills, will be posted regularly during the seminar on the laD Platform for use and consultation.
Assessment
A Case Study will be submitted before the last lesson to all students. Students will be organized in teams of 3-5 participants and will be asked to work together and complete the business case study.
The last lesson will be dedicated to present publicly the case study solution by all Teams. The case studies will be evaluated by the Instructor and the MScBA Professors in terms of consistency, depth of knowledge and delivery to the audience.
The case study completion is the prerequisite to successfully earning the 3 CFU. A Certification of Completion, endorsed by APICS and Tor Vergata University MScBA, will be awarded at the end of the seminar to students passing the final qualification and complying with the attendance requirements.

Analytical Syllabus
The seminar is split into 6 session of 3 hours each covering the various topics, the last lesson of 2 hours being dedicated to the Teams presentations and evaluation. Individual dates and time schedule will be communicated.
Here you can find the seminar syllabus.
Timetable
| | |
| --- | --- |
| TOPIC | TIME |
| The SCOR Framework and Objectives | February 22nd 08.30-10.30 (Mon) |
| SCOR processes/performance/practices/people | February 24th 08.30-11.30 (Wed) |
| SCOR processes/performance/practices/people | February 25th 08.30-11.30 (Thu) |
| SCOR proc./perform./practices/people/SSCOR | March 9th 08.30-11.30 (Tue) |
| SCOR Improvement Program | March 11th 08.30-11.30 (Thu) |
| SCOR Improvement Program | March 15th 08.30-11.30 (Mon) |
| Teams' presentations | March 18th 08.30-10.30 (Thu) |
The lecturer: Sergio Vacca
Sergio Vacca is contract professor in Supply Chain Mgmt at Tor Vergata University and former executive with world class companies international SCM experience in manufacturing, logistics, category supply and demand mgmt, supply chain planning. Consulting on SCM business process re-engineering and systems integration, operational excellence, Lean Mfg and providing coaching on managerial effectiveness and Problem Solving techniques.
Mr. Vacca is APICS SCOR, CPIM, CSCP Master Instructor, Six Sigma Green Belt and Chair of Education/SCPro™ Instructor at the CSCMP Italy/Switzerland Italian Round Table. He acts as Ambassador 2.0 at the ASCC - Apics Supply Chain Council and was formerly member of the SCC European Leadership Team and SCC TDSC (Technical Development Steering Committee). Also Mr. Vacca has often been lecturer on supply chain management related subjects at IUM Monaco MSc in Luxury Mgmt and Bocconi SDA residential Bulgari/LVMH MBA and speaker at international events.
REGISTRATION
The seminar will be available online on Zoom. Further details will be sent by email to those who register using the form below
Students interested in participating to the course are required to complete the form.

Application deadline February 19th 2021
CONTACTS
Lecturer's Email: sergio.vacca@ermi-research.org
MscBA program office study@mscba.uniroma2.it