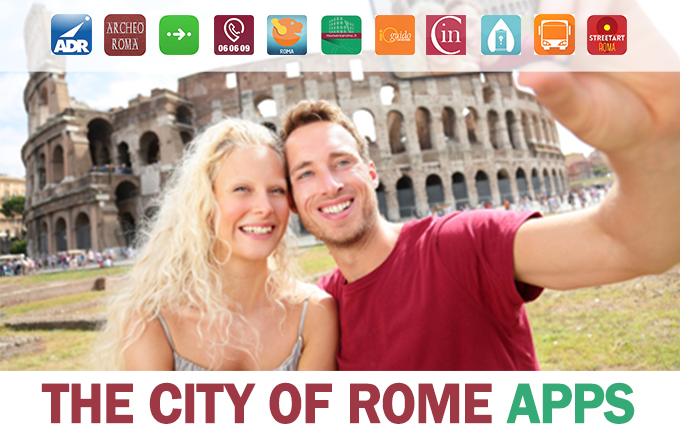 Download the best Apps for the City of Rome
Every city has its secrets and Rome, with its 2.9 million residents in 1,285 km2 has a lot to be unveiled. So why not ask for help to modern technology? Below is a list of the most useful apps available for download to help Romans and tourists find their way through the oldest most fascinating city in the world.
Mobility:
Muoversi a Roma
Roma servizi has produced the App Muoversi a Roma that provides real time updates on public and private mobility for Romans and visitors to Rome, including commuters and city users. The app provides access to the following services:
JOURNEY PLANNER, with maps ans routes for you to decide how and when to move to your selected destination using real-time information on where buses are at a given time, and on street conditions, traffic jams etc.;
NEWS, real-time mobility updates (limits placed on traffic circulation, demonstrations, strikes etc.);
FIND YOUR BUS, maps, routes and waiting times at bus stops, for Atac and Roma TPL (trasporto pubblico locale) buses;
TRAFFIC, journey times and traffic conditions on 140 km of the major streets (outer ring roads, the Lungotevere avenues along the banks of the Tiber etc.);
timetables and boundaries for Rome's ZTLs (Zone a Traffico Limitato, or limited traffic zones).
Roma Bus
Roma Bus is an App designed to simplify the use of public transportation in Rome. It offers you all the necessary information to arrive at your final destination. Roma Bus gives you the chance to check in real time the waiting time of the line you choosed; view the actual route of the bus; know all the stops around; have a whole page with your favorite stops; check the waiting time of the night buses. You can also read the latest news: in case of strikes, direction changing, route closed or difficulties on traffic in different situations like football matches or big event, RomaBus will informs you and helps you to calculate your alternative route.
Citymapper
It is one of the best App for getting around larger cities with complicated city-wide public transportation. With a great design and advanced transit options, it is the most efficient and user friendly app for public transportation in bigger cities. You can search your transit while offline and then save it for offline use. You can only save one route for offline use at a time.
The app also features tube maps, bus route maps ect. for you to look over without having to search a specific route.
Io Guido Car Sharing Roma
IoGuido is a simple App for access to the "Car Sharing Roma" service. Booking a car requires no more than a click or two! Just a few steps are required to select a car according to category, location, availability (times). Then you can book.The FollowMe functions enable you to save your position: whenever you want, you can get the application to automatically calculate the route and guide you to your destination.
Aeroporti di Roma ADR
Rome Airport's official Appupdates in real time on flights arriving and leaving Fiumicino and Ciampino airports. Check on your flight's status and up-to-date flight tracking directly on your I-phone/Smartphone and receive updated detailed information.
Chiama Taxi
The Chiama Taxi (call a taxi) App reduces waiting times and service costs. Passengers call taxis via their smartphones or tablets; they indicate their position (touch, GPS or voice recognition) and speak immediately with the driver of the taxi nearest to them, who will be able to estimate how long the wait will be.
Explore the City:
MiC Roma Musei
The App provides users with official and updated information in real time on all the exhibitions, events and courses available (current and scheduled) for the 20 state museums that form part of the network of Museums in the Municipality of Rome. Information on the App is in both Italian and English, simple to use, with a good content level and beautiful pictures.
Archeo Roma
The App contains descriptions of Museums, Archeological Sites, Exhibitions and Event and helpful information.
MUSEUMS AND SITES: the most striking places of the city are divided into sections that tell their history and context. There are information about landmarks includes opening times, ticket purchase and public transport;
EXHIBITIONS: contemporary art and antiquity, photography and sculpture. Constant updates of art events;
MAPS: activate the geolocation and explore the map section to find out the closest landmarks. Tap on the map to choose the museums and archeological sites you want to visit.
iDOTTO - Audio Guide and Turistic Map
iDotto it's different from all other guides: it's like a real travel companion. iDotto uses GPS to identify the user's location and talks about what is around them, in Italian or in English. Just put on your earphones, walk around and listen. You don't need to hold the screen, or decide what to listen to each time, or follow a predefined route, or read a guide while you are walking around or are in front of a monument: you can finally enjoy Rome with your head held high and your hands free. It tells you not only about the big monuments but also about little quirks; not only about art and history but also about anecdotes, shopping, cinema and gastronomy: you'll never get bored. There are no texts copied from an encyclopedia and you can even personalise the account: at the start the user is asked to state their preferences; while listening, they can express their satisfaction with a 'like'. iDotto will remembers this information in order to choose texts most suited to each person. iDotto also includes a navigation system (based on Open Street Map) that allows you to look at maps and calculate a route: all completely offline. Therefore the service is very fast and doesn't need an Internet connection.
Nasoni d'Italia - Drink in Italy
The App provides a map of the public drinking fountains (the so called "Nasoni") located in Rome's historic centre. You can see immediately (thanks to the map) where the fountains are located, but also look for the nearest one: you'll be informed on the distance from you and on the way to reach it, thanks to your smartphone which will lead you step by step through your town streets. The application also provides information on the closest monuments and artistic fountains, with a brief history for each.

Street Art Roma
If you want your visit to go beyond the tourist staples of the Colosseum, Roman Forum and the Trevi Fountain, download this free guide to Rome's street art. With descriptions and information about more than 100 artworks dotted around the city, this App will help anyone seeking an alternative taste of Roman culture, far from the masterpieces you'll find in the museums.