Open Academic Year Address with Hon. Romano Prodi.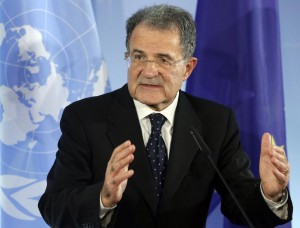 This year, the Welcome Ceremony of the B.A. in Global Governance will have a special guest! Indeed, the Academic Year 2016/17 will be inaugurated by the former Italian Prime Minister and President of the European Commission, Hon. Romano Prodi, currently Chairman of the UN-African Union Working Group on peacekeeping missions in Africa. September 22nd 2016, 11:00 AM. School of Economics, Aula Magna. University of Roma Tor Vergata. Save the date!
We are sorry to convey the sad news of the premature disappearance of Ambassador Alessandro Merola.
The whole Global Governance staff expresses condolences to his family.
The 3rd Year Class of the Global Governance Course would like to remember of him with these words:
Distraught about what we have recently been told about the passing of Ambassador Alessandro Merola, we would like to dedicate some of our thoughts about the moments that we shared with him during our time together.

As a teacher, he was devoted to us; even when we were about to head out for our breaks, he was constantly there, never missing an opportunity to help us in any way that he could. As a teacher and as a person, his kind and caring nature to nurture our development not just as a class but as individuals to help us towards our future aspirations was always evident to see.

We already miss his presence, his lectures full of pragmatism and linearity, his inner passion making us strive to be the best we could be: proficient, skilled and constantly adaptable about the world in which we live in. He worked in ways which were unconventional yet creative, fun yet informative, diverse yet inspiring, tailoring the lesson not just to the class as a whole but to each of us as individuals, we will always know him as a key and instrumental part of our team.

For all these reasons, and of course for many more, we have lost a big personality in our course, one that we will never be able to fill, but hopefully with his guidance we'll be able to pass on his legacy in our own special and personalised way. We feel unbelievably privileged to have been apart of his classes and his extraordinary career, and this is to a man, that not only inspired us but many other people who he graced with his charisma and knowledge.