MSc Economics Tor Vergata University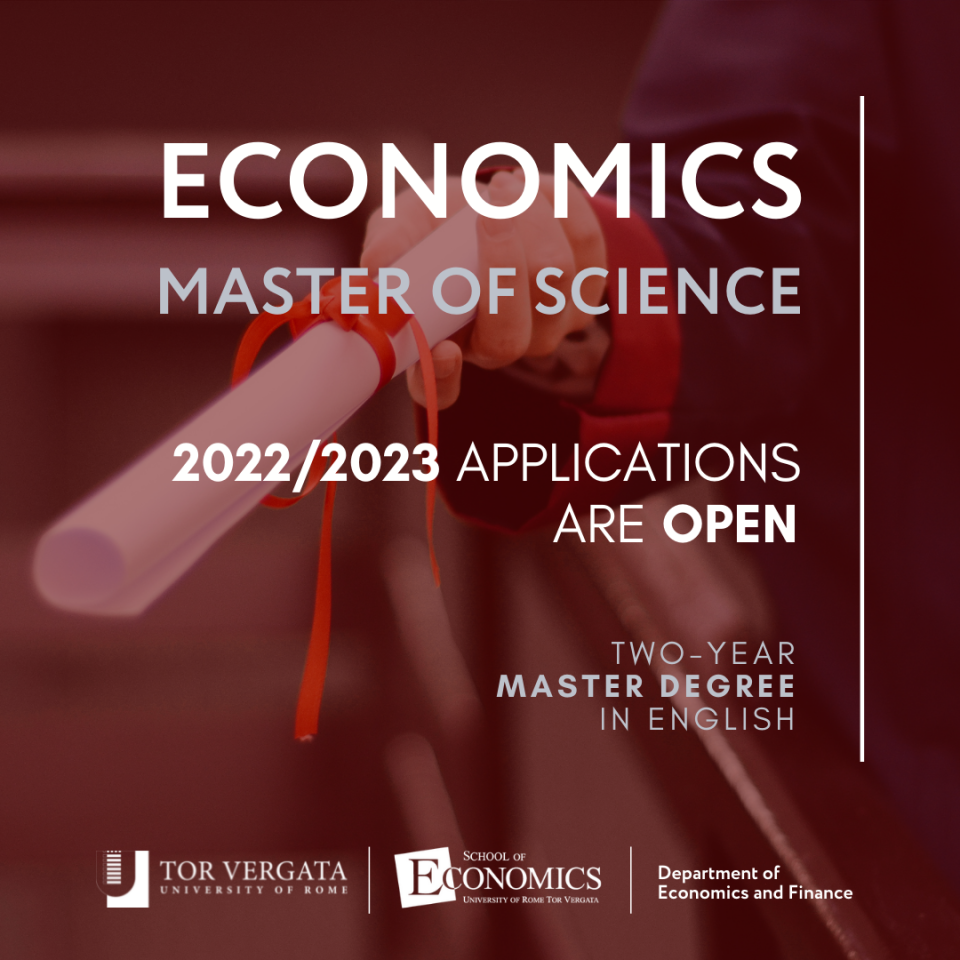 2022/23 Applications & Open Day
The MSc in Economics is a two-year master degree in English, which provides students with the knowledge and practical application of economics as well as the tools and methods for the analysis of economic problems.
What kinds of practical applications does the program offer?
The program includes applied courses in big data for economics and finance, environmental economics, health economics, industrial organization, labour economics, law and economics, public economics in addition to core courses in econometrics, game theory, macroeconomics, mathematics, microeconomics, statistics and time series. Students also benefit from using statistical software such as Stata and R, programming languages such as Matlab and programming platforms such as Python. Moreover, students have the possibility of doing a curricular internship in the private sector and national/international institutions or to complete a Research Assistant Internship through the Department of Economics and Finance.
What makes our program unique?
We are committed to providing our students with high quality teaching from the top professors in the Department, which was recognised as a department of excellence by the MIUR. Our students are followed closely and provided with academic support as well as a personal tutor who follows their progress and advises them throughout the entire program. Second-year students have the opportunity to attend a Dual Degree Program in partnership with the University of Gothenburg or the University of Konstanz. Moreover, annual extra-curricular initiatives are organised to strengthen our students' professional skills, which allows easy access to employment or further academic opportunities.
What are the placement opportunities and which is the employment rate?
This academic program is ideal for those who want to acquire advanced analytical skills to pursue a career in national and international institutions, or who want to prepare for a Ph.D. program in Economics. Over 95% of our students are employed within one year after graduation. The excellent placement may be consulted on the employment statistics page and on the Alumni page of our website.
Would you like to join our program?
Applications are open for the 2022/2023 academic year. The application deadline is June 8, 2022 for non-EU students and August 3, 2022 for EU students. The call for applications is available here.
If you would like more information, please contact us at msc_economics@economia.uniroma2.it or visit our website https://economia.uniroma2.it/master-science/economics.
Looking forward to seeing you in Tor Vergata!