Scholarships for Academic Year 2018/2019
In order to obtain scholarships students can apply to DiSCo, an institution of Regione Lazio (the Region of Lazio), which every year offers a limited number of scholarships based on family income and merit.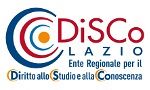 DiSCo Lazio - Students can apply for scholarships and accommodation at the student welfare service provided by Regione Lazio. Usually applications are open from May until September every year.
Academic Year 2018-2019 Application Period: from May 10 to July 25, 2018
You may apply for: scholarships, accommodation, fee reductions, study abroad periods (if already enrolled), and reductions in public transport fees. The amount of scholarships depends on several factors including your economic situation and location.
- WHEN YOU SUBMIT YOUR APPLICATION, REMEMBER TO SELECT "ECONOMIA & MANAGEMENT" AMONG THE COURSES
N.B.: For foreign students: the English version of the Call for Applications for the academic year 2018-2019 is not yet available (but you can check the Application Guide). In the meantime we suggest you to have a look to the English version of the above document for the academic year 2017-2018. As soon as the English version will be uploaded on the Laziodisu website, we will update the documents: Call for Applications a.y. 2017-2018.
If you are interested in applying to the Laziodisu Scholarships, you can start your application at www.laziodisco.it.
Important - if you will be granted the scholarship - you will be able to access the scholarship funds only once enrolled.
1. Laziodisu Study grants
To facilitate capable, worthy university students without means, provides within the limits of the funds available, a study grant to attend degree courses. The maximum amounts are established as follows:
€ 1,950.44 for "local" students;
€ 2,852.71 for "commuter" students;
€ 5,174.66 for "non-local" students.
2. Laziodisu Lodgings
In order to reduce the inconvenience of being distant from the study site and to facilitate attendance at university courses, Laziodisu assigns, within the limits of availability, for a period not exceeding eleven months, lodgings in its structures to those registered no later than 31 March 2019. Only "non-local students" registered at universities with registered campuses in Lazio Region may apply for lodgings.
3. Contributions to international mobility
Students who are beneficiaries of Laziodisu study grants, registered at universities in Lazio Region, including those registered to doctoral courses, have the right, within the limits of availability of funds to intergrate the grant for participation in international mobility programmes only once in each degree cycle.
4. Required Documents
Also remember that to fill the application you will need to have a Fiscal Code (Italian Codice Fiscale); you can obtain the fiscal code at the Italian Diplomatic Authority in your country of residence, if you are not in Italy.
If you don't own a Fiscal Code yet please visit: www.codicefiscale.com and isert your data to obtain a temporary one. And when you arriving in Italy, if you don't own the Italian Fiscal Code (Codice Fiscale) yet, you have to obtain it going at the Agenzia delle Entrate. Or will be possible to obtain it in September during the Welcome Weeks at the School of Economics since will be present employees of Agenzia delle Entrate for the issue of the Fiscal Code.

Italian government Scholarships for foreign and I.R.E. students
La Farnesina - Italian Ministry of Foreign Affairs every year the offers study grants to foreign students who intend to study in Italy.
The General Information
Italian language proficiency is a determining factor in being accepted for study in Italy and for being awarded a bursary. A B2 level "Certificate of Italian as a foreign language" must be submitted. Many Italian Cultural Institutes around the world offer Italian language courses and have language proficiency testing facilities. Check the Network of Italian Cultural Institutes for more information.
Before submitting their applications prospective applicants to Italian bursaries must contact the university or institution in Italy where they intend to study. They are advised to be as fully informed as possible about the institution and course of study of their choice.
Applicants may obtain country-specific information from the Italian diplomatic mission or Italian Cultural Institute in their country of origin, either in person or from the institutional websites. Contact details for Italian foreign missions abroad are available at Italian Embassies or Consulates Abroad
For further info visit:
Scholarships | Farnesina - Ministry of Foreign Affairs